This blog has been neglected. There, i said it. Call the Blog Protection Services and i might lose custody. The problem is that i have a reason for that. Several, in fact, but these are the ones that matter, and most of them sound so lame i won't even bother to list them, like "time" or "i needed a break" or a "fresh perspective".
As you may know, i've been doing the MA in Online Journalism at Birmingham City University, under the guidance of Paul Bradshaw, for the last nine months. Best thing i ever done in my life: not only i got to learn with one of the best minds in online journalism, but i also had a great time living in a foreign country, a first for me. It wasn't a life changing experience or anything like that, but it 's damn close. Now that i'm back in Portugal i'm slowly recognizing the effects it had on me, and i'm in what i call a "hangover period". You know, you wake up a bit disoriented, and wonder about what you've done the night before? No regrets in my case though.
But since i was busy as hell, i put the blog aside for too long. I have a list of posts i want to write, and i'm starting to work on them this week. I have stuff waiting to be posted since last year, but now i know how to do it better. So pay attention to the forthcoming posts, i'm back.
Meanwhile, i was doing this MA like i said. I still have one project to do during the Summer, and i'll talk about it here soon, but you can take a look at what i've done in the last six months in this blog post Paul wrote about the assignments and experiments me and my colleagues did.A timeline, the spontaneous online coverage of the Madeira floods, a multimedia project, those were some of my relevant efforts.
I'm proud of mine – though i think i could have done so much better -  but my colleagues were great. Read the whole series of posts so you can have an idea of what we were doing. We got in touch with amazing people, and though sometimes the brits seem hard to reach, i met some of the nicest people ever related to journalism. Maybe i was lucky, maybe they were just polite, but what a difference! The small country blues hit me hard sometimes, but then i also realized that in Portugal we are not behind anyone, we have incredible people working in journalism and new media, the problem is that we don't have many chances to grow. Well, we do, but no entrepreneurial attitude (i had a class on that), fortunately some people don't think that way. But that's for another post.
Anyway, i'm on a break now, doing this course in Porto, and then i'll be working on my Summer project for the MA. And afterwards i may have a job that allows me to do lots of stuff on the side, and push the boundaries of journalism a little further. I have lots of ideas, so all i have to do is work on them, no matter if i stay here or change countries again.
The future is now, and there's no better place than that.
PS: by the way, the reason why i'm writing english only posts is that writing both in portuguese and english is time-consuming and i'm a bit late, but i'll try to go back to dual language soon.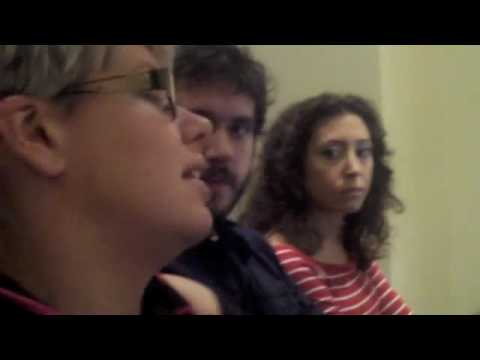 Just one year ago there was this huge debate over a student that was banned from blogging his classes at New York University. Here at the MA Online Journalism Paul Bradshaw is such a forward thinker we are recording the lectures on video. And this is not a regular classroom, it is a cafe Birmingham's city centre. Pretty cool huh?

In this video the class was invited to share work experiences, and around 3'40" i get to say some rubbish. Two things: it's a diverse bunch indeed, and i have to do something about my haircut and/or beard.

In order of appearance: Dan Davies, Caroline Beavon, me, Ioana Epure, Andrew Brightwell.


Watch the related videos for more bits of our first lecture.


Há apenas um ano atrás houve uma discussão enorme por causa de uma estudante da New York University que foi proibida de blogar as aulas. Aqui no Mestrado, o Paul Bradshaw é tão à frente que estamos a gravar as aulas em video. E não numa sala de aula qualquer, mas num café no centro de Birmingham. Porreiro, não?


Neste video a turma partilhou algumas experiências de trabalho, e por volta dos 3'40" tenho espaço para dizer algumas asneiras. Duas coisas: é realmente um grupo heterogéneo, e tenho que fazer alguma coisa ao meu cabelo e/ou barba.

Por ordem de entrada: Dan Davies, Caroline Beavon, eu, Ioana Epure, Andrew Brightwell.

Vejam nos videos relacionados outras partes da nossa primeira aula.

Some of you already knew about this, but i applied to the MA Online Journalism at Birmingham City University, a course created and headed by Paul Bradshaw.

I got a place there a few weeks ago, but i was depending on a bank loan that kept me from making any "official" statement about this sooner. It came through today, though there's still some bureaucracy involved.

I asked for your support and you have been great joining the cause. Without you everything would be harder. So, thank you.


Anyway, i'm going. It's going to be a huge change in my life and hopefully a stepping stone for my career. It's going to be hard for different reasons, but it can't be harder than what i've gone through in the last few years. And i expect it to be more fun.


But this is just part of it. There are more changes on the way. I'll let you know soon.

Alguns de vocês já sabiam disto, mas candidatei-me ao Mestrado em Jornalismo Online da Birmingham City University,um curso criado e dirigido pelo Paul Bradshaw.

Consegui um lugar lá há já umas semanas, mas estava dependente de um empréstimo bancário que me impediu de fazer alguma declaração "oficial" mais cedo. Mas consegui-o hoje, apesar de haver ainda alguma papelada a tratar.

Eu pedi o vosso apoio e vocês foram impecáveis ao aderir à causa. Sem vocês seria tudo mais difícil, por isso, obrigado.

De qualquer forma, eu vou. Vai ser uma mudança enorme na minha vida e espero que seja um passo em frente na minha carreira. Vai ser difícil por várias razões, mas não será mais do que vivi nos últimos anos. E acredito que será mais divertido.

Mas isto é apenas parte, há mais mudanças a caminho. Em breve eu ponho-vos a par.